Chairman Profile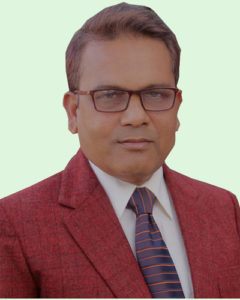 Professor Dr. Gazi Hasan Kamal Chairman, Board of Intermediate and Secondary Education,Mymensingh Date of Birth: 10 January 1965
Professor Dr. Gazi Hasan Kamal was born in Mymensingh District Sadar in 1965. He passed his SSC in 1981 from Bindubasini Government Boys' High School,Tangail and HSC in 1983 from Govt. Ananda Mohan College, Mymensingh. He graduated in Economics from Govt. Ananda Mohan College Under Dhaka University in 1986 and earned his post graduate degree in Economics in 1987 from the same institution. He did his MS at the Institute of Humanities and Social Sciences (IHSS).
He started his career as a member of education cadre(14th BCS) at Govt. Begum Rokeya College as a lecturer of Economics in 1993.Through his performance, sincerity and passion for his profession promoted him to Assistant Professor in 2001, Associate Professor in 2005 and Professor in 2013.Professor Dr. Gazi Hasan Kamal is a proud member of Institute of Bangladesh Studies. He completed PhD from IBS in 2008. His thesis title was "Supply response of major agricultural products in Bangladesh; A cointegration and error correction modeling approach".
While working at Ananda Mohan College as head of Economics Dept. and then Vice-Principal, he was four times elected secrectary of teachers Council. Being chief Co-ordinator of Ananda Mohan College hundred years celebration program, he presented a wonderful show and he made it successful with strong leadership. He worked as Vice-Principal at Ananda Mohan College from 2015 to 2017.
He took various training from NAEM, National University, Ministry of Planning and DSHE at different times. He has four research articles which have been published in different national and international journals. He loves co-curricular activities. He always gives importance on them. He was involved with Cab Scout and Rover Scout during his education life himself. At present he is maintaining his responsibility as a chairman of Bangladesh scout at Mymensingh region with love and care. He always loves to get involved with social development activities. Mymensingh Welfare School(For Special Child),Boundary Road,mymensingh is an example of it. He visited New-Zealand, Australia, India, Singapore and Malaysia at different times. Through his visiting, he observed the education system of them. He dreams to implement them in our education system gradually. He taught in different government educational institutions with name and fame.
Professor Dr. Gazi Hasan Kamal joined newly established Mymensingh Education Board as a Chairman on 31 December 2017. He is also an honourable secretary of Muslim Institute in Mymensingh. He is a kind and charismatic govt. employee who works for his beloved students selflessly and feels proud to render a great service for the public welfare ,especially in the education area.